Sales and Compliance in the Palm of Your Hand
ADD StiQR is a revolutionary new product that will help you sell more cars. Exclusively from ADD, these window stickers use QR code mobile technology to link savvy consumers to NMVTIS histories, vehicle specs, dealer websites, Facebook, Twitter and more!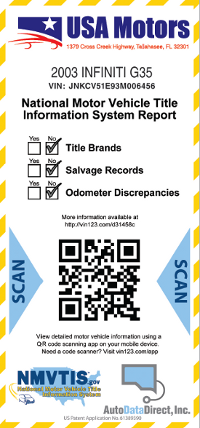 In California, ADD StiQRs offer proof of compliance for AB 1215 while giving savvy dealers a great lead-generating sales tool. Learn more about ADD's California dealer tools.
For dealers everywhere, StiQRs give a car buyer all the information he needs to make a purchase decision by putting the vehicle facts in the palm of his hand.
After scanning the StiQR on the vehicle, the customer is linked to a navigation page containing a vehicle history report and sales information specific to the vehicle and dealer.
The StiQR sales product is available to dealers at a cost of $5.00 per VIN, with your ADD account.
Enhance the sales process by:
Increasing consumer involvement during and after business hours.

Providing the sales person with an innovative icebreaker, leading to quality consumer interaction.

Delivering the consumer the sale data such as the dealer website, technical data, vehicle history, photos and pricing information.

Supplying the dealer with lead-generating abilities and tracking capabilities.
Download the brochure or view the Terms of Use.
Want StiQRs for your dealership? Sign up now.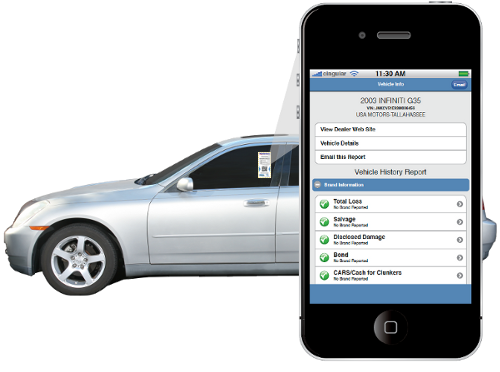 "We've been surprised at how ready the customers are for this technology. We have seen customers take out their smartphones and scan the QR, which leads to quality interaction throughout the sales process."
- R.C.Hill, III / R.C.Hill Mitsubishi
ADD StiQR in the News
---
Watch a Video Demo
Sign Up
Ready to get started? Creating an account with Auto Data Direct takes just a few clicks.